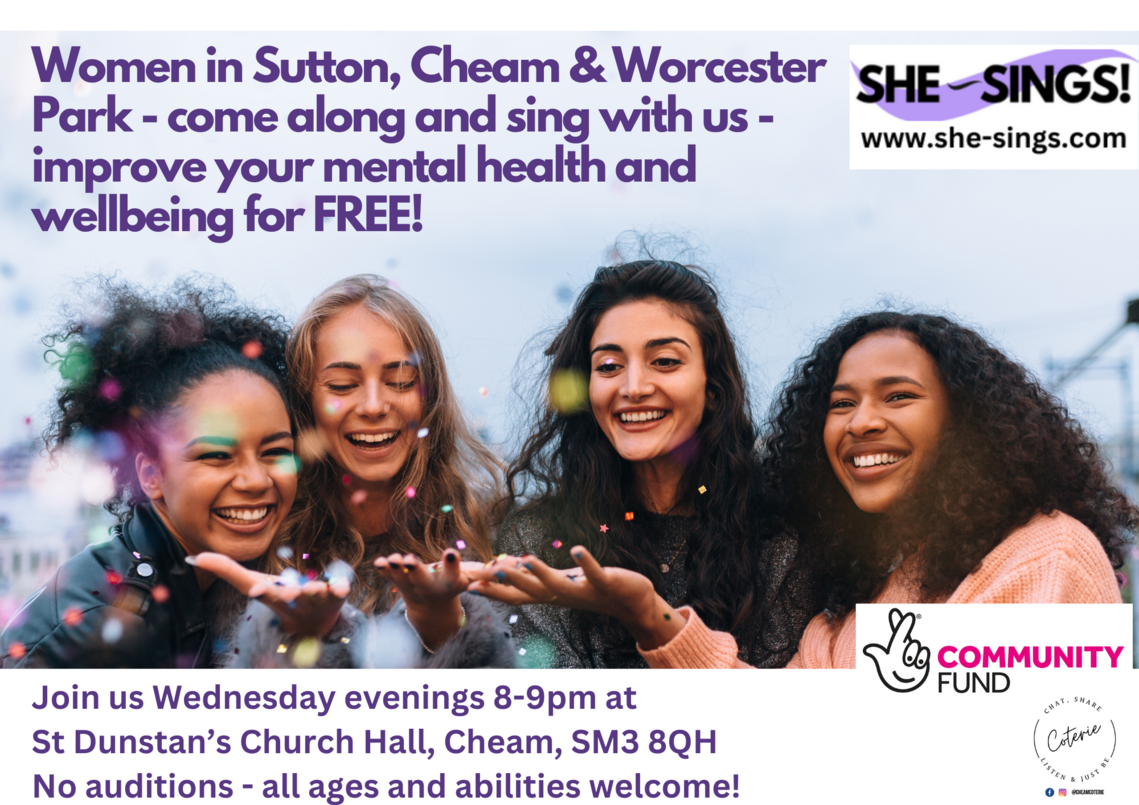 Come and Sing with Us!
We are a Women's Wellbeing Singing Group who meet on a Wednesday evening (term time only) 8-9pm at St Dunstan's Church Hall in Cheam, Sutton.
There are no auditions as we are inclusive of all abilities.
All ages welcome!
We are led by Hannah and Melody.
How did She~Sings come about?
We came about because two local mums wanted to do something for the community - give something back! And combine their love for community growing, music and wellbeing! So hence our weekly Wellbeing Singing Group came about.
Are you a choir?
We are a choir in the sense that we come together regularly to sing! However as we want to be inclusive - we don't hold auditions nor do you need to be able to read sheet music or have sung before in a choir. If you can sing in the shower and want to join us - then you can!
What sort of songs do you sing?
We sing a range from pop hits, classic karaoke numbers, Christmas Carols, songs from musicals to songs with non-English lyrics!
Carole King, Spice Girls, Take That, Nina Simone, ... the list goes on ...
We take requests so if you fancy singing a song - let us know!.
How comes it's free?
We started in Autumn 2023 after a free taster session in July 2023. We had almost 30 people come along to our first taster session and then after that we've had about 10-15 join us regularly. However we were very aware that for many families during the cost of living crisis - an extra expense for a Wellbeing Choir was hard to justify when there's other bills to be paid! But then - singing is great for your wellbeing and mental health and we wanted to find a way to make it accessible for all women.
So we are very excited as we have managed to win National Lottery funding for a year and so we can offer Wellbeing Singing weekly for FREE for the next year!
So come along - we hope you can make at least half of the sessions each term as then that means there's some continuity and also we can get to know everyone! There are usually 6 sessions per term and we'd ask that you can make at least half of the remaining sessions per term from when you sign up - so for example you sign up with only 4 sessions left in the term we hope that you can make at least half of them i.e. 2 sessions!
Where did the name come from?
With the Coterie we are passionate about supporting Women and all those identifying as a women. We didn't want to call it a choir - as that tends to mean a group who have auditions. And we wanted to support Women in our Community with their mental health, wellbeing and social isolation.
Hence we Sing for our mental and physical Health and Enjoyment!
SHE~SINGS!
(plus that web address/domain name was available!)
This sounds great - how do I sign up to sing?
Head over to our Registration page here and add your details.